Winter Woes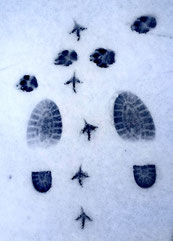 As the clocks go back and the change of seasons are here, we start to feel tired and sluggish.  As well has stressed and less motivated.
So here at The Whitchurch Clinic we have develop a some tips and advice to help you through these winter months!
Stress
Stress is something that will affect most of us at this time of year, due the demands of the Christmas season.
"Stress manifests itself as a physical, psychological or social dysfunction resulting in individuals feeling unable to bridge the gap with the requirements or expectations placed upon them."
http://isma.org.uk/about-stress/facts-about-stress 
People deal with stress in different ways. The symptoms of stress can effect your body, thoughts, feelings and behaviour.
Stress and pain are very closely linked together, but does stress cause pain or does pain cause stress?
Chapman et al, 2008, studied a review of psycho-physiological systems in relation to pain whereby a  physical injury or wounding can generate a complex stress response. They concluded that acute pain is an effect of multiple dimensions, and are products of the bodies 'supersystem'.  They also proposed that when the 'supersystem' is dysregulated, then health, function, and sense of well being suffer, and can be a result of chronic pain. 
Helpful tips to manage stress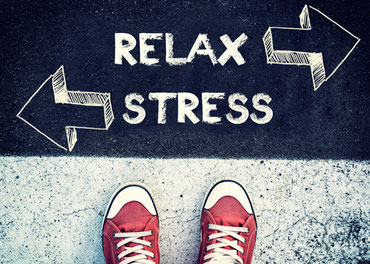 Here at The Whitchurch Clinic we have a few tips on how to manage with the seasonal stress:
Make lists - not only does it help you put your thoughts to paper, but gives you a self of achievement when you tick one off your list.
Relax -   find ways to help you relax such as breathing exercises, meditation, yoga, time away from daily stresses.
Treat yourself - try to help reduce tension with a massage or reflexology; find new ways to relax with Hypnotherapy; treat those aches and pains with a Chiropractic treatment; or take it all out with a personal trainer session.
There are many contributing factors to stress, and it is important to identify the cause. If you are not sure what is causing stress, or if you are unable to control your levels of stress, then it you will need to seek professional help.   
Tiredness or lack of sleep
One of the most important factors for getting a good night sleep is getting your mattress and pillow right for you.  We get asked many of times which mattress would you recommend, please free to ask for some bespoke advice on your next visit
Sleeping postions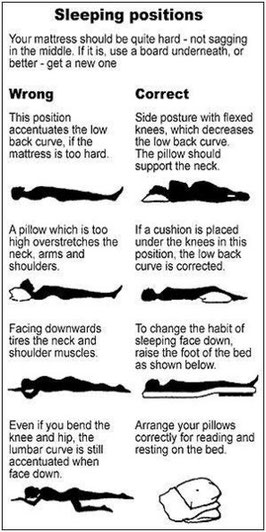 Your sleeping position is very important as this is where you will spend nearly half of your day.  With the darker nights we may find ourselves retreating to bed earlier than in the summer months.  
REMEMBER DRINK PLENTY OF WATER! This helps us keep our muscles and joints hydrated and therefore pain to a minimum.
AVOID SLEEPING ON YOUR FRONT! A lot of front sleepers present to us in clinic with chronic problems as it's difficult to maintain a neutral spine position.
Sleeping on your stomach forces your head and spine into an unnatural position, and staying in this position for hours on end is not good for your back or neck and can result is significant discomfort and restless sleep. Patients have seen great results from trying to change their habits.
As I always say, you can't control what you do in your sleep (especially snoring!), and it is hard to change the habit of a life time, but we can try and set up in a good sleeping position to avoid it.
Less sun means less Vitamin D
Vitamin D is necessary in order to protect musculoskeletal health, as it assists with the absorption of calcium.  During the summer months our vitamin D levels are maintained by the amount of sun we exposes our bodies to.  However in the winter months most of us do not have the luxury of chasing the sun, so our Vitamin D stores maybe depleting.  The department of health, as well as a recent publication from the Scientific Advisory Committee of Nutrition (SACN), recommend a daily supplement of 10 micrograms of Vitamin D.
More research is being carried out into the benefits of vitamin D, and recommendations may vary depending on what you read.  Therefore the above information should be taken precautionary.
It is important to note that too much sun exposure can increase the risk of skin cancer, and this information should only be taken as advisory.
For further reading on the SACN Vitamin D and Health report please click on the following link:
https://www.gov.uk/government/uploads/system/uploads/attachment_data/file/537616/SACN_Vitamin_D_and_Health_report.pdf
and the following for an additional press release:
https://www.gov.uk/government/uploads/system/uploads/attachment_data/file/539596/SACN_Vitamin_D_Press_Release_July_2016.pdf
Exercise and Diet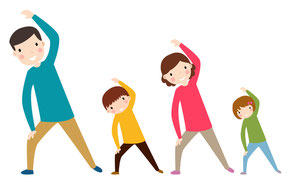 Don't let the cold weather put you off keeping fit and healthy.  Not only will exercise and a good diet reduce your risk of major illnesses such as heart disease, diabetes, help you to live longer but it will give you more energy.  More energy will mean a happier you!
Here are  some tips to keep you moving:
Get up, stand up

.

 Inactivity is a leading cause of back pain. If you spend most of your day sitting make sure that you take regular breaks, ideally every 20-30 minutes. Stand up to stretch, change position, and walk around a little.

Stretch it out.

 If you struggle to get away from your seat at work, simple activities such as stretching and shoulder shrugging, and even simply fidgeting in your seat, can all help to keep the joints and muscles in your back moving.

Keep moving.

 Exercise is key to a healthy back, however you don't need to embark on any extreme fitness regimes. Adding just a few extra minutes of walking a day can have a huge impact on your posture.

Straighten Up.

 Try incorporating some simple exercises into your daily routine. The British Chiropractic Association has developed - bit.ly/straightenupuk - a series of simple exercises designed to improve posture and help prevent back pain by promoting balance, strength and flexibility in the spine.

Perfect your posture.

 Paying close attention to your posture can help you recognise back or neck pain triggers. People who want to improve their posture should try imagining they have a plumb line hanging straight from their ears to ankles - with everything in the middle sitting on the same line. One way to do this is to try standing in a relaxed way and then gently contracting the abdominal muscles. 
There is always temptation to over indulge in the festive season so here are few tips to keep your diet healthy:
Remember your 5 a day portions of fruit and veg.  Take advantage of  seasonal vegetables like carrots, parsnips and swede.
Avoid comfort eating, keep your meal times regular, and try not to skip meals.
Be carb smart.  Carbohydrates are good for us if eaten in the right quantities at the right time.  
DISCLAIMER
All of the above is advisory and therefore we would recommend that if you have any queries to either contact us here on 02920 617700 or contact your local healthcare practitioner.