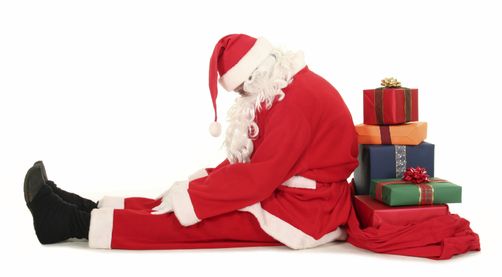 Surprisingly, Chiropractic Clinic's around the country see an increase in patients with back aches and pains which have appeared during the Christmas period. There are many ways you can hurt your back at Christmas; whether it's bending and lifting heavy items like Christmas trees, furniture or even the turkey can easily strain your back or exacerbate existing aches and pains.
If you do hurt your back or neck during the holidays, your first thought might be to put your feet up on the sofa and watch some festive films and wait until the pain disappears. Although this may seem like a tempting option, it is much more beneficial for your back to keep your muscles moving. 
So, our first tip..
Keep Active
We know it's easier said than done, as the Christmas period for most means to relax, BUT that doesn't mean sitting on the sofa for 2 weeks eating your body weight in sugar. Prolonged periods of rest is bad for your joints and we are designed TO MOVE! So, try and get at least 30 minutes of gentle to moderate exercises 3-5 times per week in order to keep your joints and muscles healthy and your mind happy. Whether that's starting your days with a brisk walk out in the cold, fresh air or following an online exercise/pilates class.
Wrapping
We are all guilty of this, we sit on the floor, cross-legged, for a long time wrapping that never-ending pile of presents. This is not the best position for your and can cause extra strain on your neck and lower back. Why not try standing or sitting at a table instead. Another good way, standing at your ironing board as this height can often be adjusted to suit you and does not require you to be slouched over too much. 
Tree's a Crowd..
When it comes to putting up your decorations like the Christmas tree, get some help. The more help the better, even with the stages before the decorating; we have to get them from somewhere, so be mindful when digging them out from the attic or loft, always have someone else with you. When decorating be sensible, use a step where necessary. Don't overstretch, don't take short cuts or move in awkward ways that your body isn't used to!
When carrying heavy boxes or bending down to get that turkey out of the oven, be sure to bend and lift properly, squatting and using the knees rather than bending at the waist. 
Cleaning and Cooking
It's so stressful making sure your home is clean for your visitors, never mind the mammoth task of cooking for everyone, so try and delegate your load. Split the cleaning up amongst family members and even with the cooking if you trust others enough. But if you are like most people and would prefer to take full control of the Christmas Dinner then try to avoid being stuck over that stove for hours-on-end. Do some bits and bobs the day before, like the veg for example! 
Travel 
Always get yourself comfortable before you start your travels, making sure you are sat upright and your mirrors are correctly adjusted; especially your rear-view mirror. Because lets face it, it's so easy to slowly sink and slouch during a long journey, so use that mirror as a gage to know whether you need to sit up more. HAVE A BREAK, make a stop or two at a service station to stretch those legs, as well as some fresh air. 
...and most importantly, have fun this Christmas! 
From us at The Whitchurch Clinic, we hope you have a Merry Christmas and a Happy New Year!