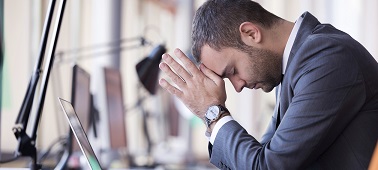 This is the most common type of primary headache: its lifetime prevalence in the general population ranges in different studies from 30 to 78%. A number of studies have appeared after the first edition of The International Classification of Headache Disorders that strongly suggest a neurobiological basis (coming from the nervous system), at least for the more severe subtypes of tension-type headache (TTH).
The most common triggers of TTH reported are anxiety, emotional stress, depression, poor posture, and lack of sleep, although the evidence for each of these (except stress) is poor. Physical exhaustion is also a common cause of TTH, so make sure you are getting enough sleep! 
Tension-type headache Vs migraine
If you have TTH, it will produce a mild to moderate pain, whereas the pain of migraine can reach disabling severity. Normal movement during everyday activities shouldn't aggravate it, unlike a migraine, which can be aggravated by movement. There is an overlap in the triggers of migraine and TTH, as both may be brought on by stress or tiredness. Head and neck movements are important triggers in patients with TTH, whereas hunger and odour were significantly common triggers in migraine.
Classifications
Tension headaches are divided in to episodic and chronic. Episodic tension-type headache is further categorised into infrequent and frequent subtypes.
Episodic infrequent – They occur less than once per month, so between 10 and 12 times per year.
Episodic frequent - At least 10 episodes occur for 1-15 days per month, for at least 3 months.
Chronic or New Daily Persistent Headache - Last more than 15 days per month on average, for more than 3 months. Can last for hours or may be continuous.
The pain is typically bilateral (right and left), pressing or tightening in quality, and of mild to moderate intensity, and does not worsen with routine physical activity such as walking or climbing stairs. There is no nausea, but photophobia (light) or phonophobia (sound) may be present. 
Treatment
As with any new symptoms it is always important to visit your GP or Chiropractor to rule out any other disorders before reaching a diagnosis yourself.