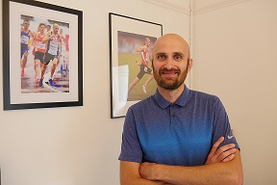 As people start preparing for autumn runs such as the Cardiff Half Marathon

, 

Sports Therapist and ex professional track runner, Gareth Warburton; who works from TWC and SMCC; 
says he cannot emphasize enough the importance of trainers in helping to prevent injury when running.
You should be swapping out your running shoes every 400 to 500 miles. This means if you average 25 miles per week, you need a new pair every four to six months. If you push beyond this mileage, you risk discomfort and possibly a long-lasting, debilitating injury. 



Running shoes wear out over time, and so does the support and shock absorption that they offer.
Things to 

keep in mind:
1. 

Keep track of monthly mileage
2. Check shoe tread


3. Check shoe absorption 


4. Any signs of pain (especially lower limb) it might be time to look for a new pair.

To find out more about Gareth follow this link to his website
http://www.garethwarburton.com/